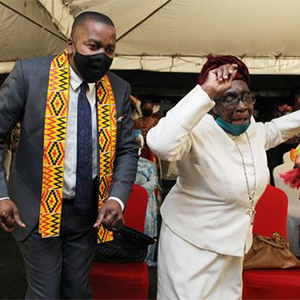 Members of the Spiritual Baptist faith celebrate their liberation on lands given by government.
Yesterday was the holiday given to the people of Trinidad and Tobago to commemorate the lifting of the Prohibition Act against the Spiritual Baptists and their worship.
At a celebration in La Horquetta, government Member of Parliament Foster Cummings said there has always been a commitment to the faith.
Minister Cummings said government was proud of its contribution to the faith.
The MP, who is a member of the Spiritual Baptist faith, told of major plans for the land.
Meanwhile Shepard Ray Braithwaite of the National Congress of Incorporated Baptists Organisations said yesterday the plan for the land is being rolled out.
However he said it would take a lot of money to become reality.
He said continued support from the government would be welcomed.