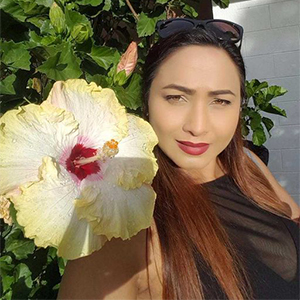 Extracted without injury, abducted UWI staff member Maria Dass is now safe after being rescued by police.
Ms. Dass was snatched from the university's campus and bundled into a vehicle yesterday afternoon.
A statement issued by the TTPS last night said, Ms. Dass was successfully and safely extracted at 8:30 pm from a location in Caura.
The joint operation team included officers of the Special Operations Response Team, Special Branch, Anti-Kidnapping Unit, Inter-Agency Task Force and the Northern Division Task Force.
Speaking via telephone on the TV6 Morning Edition today, Commissioner Griffith said all operational and intelligence units sprung into action on hearing the report.
During the operation two suspects were held.
One of them was said to be wearing a police jacket although he is not a police officer while the other was found wearing camoflage gear.
Commissioner Griffith who was actively involved and coordinated the operation said he was saddened that persons attempted to politicise the abduction of Ms. Dass.
Commissioner Griffith then accompanied the victim to seek medical attention.
In the release the top CoP assured the nation that regardless of who an individual is, the TTPS will spare no effort and do all that is required within the law to ensure the safety and security of all citizens.