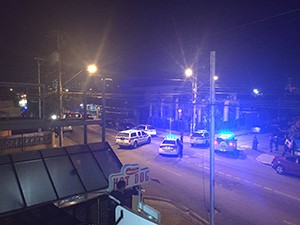 A man reportedly dressed as a woman is shot dead during an exchange of gunfire with police.
Sketchy reports say at around 11 o'clock last evening the man, whose identity is not yet known, robbed a restaurant and casino on Ariapita Avenue.
It is reported, at gunpoint the man took a worker into an office where he relieved the establishment of 40,000 dollars in cash.
As he was heading out of the enclosed office, a police officer attached to the Inter Agency Task Force, saw him with the gun in hand and called on him to stop.
The man reportedly pointed the gun in the officer's direction and fired a shot.
Officer Omari Danfield returned fire hitting the man.
He ran a short distance and collapsed.
Police were called to the scene, the man was declared dead by a DMO.
Woodbrook police are investigating.