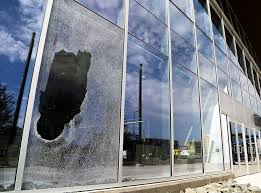 Police nab a vandal in the act following a break in at a branch of Republic Bank.
Reports say at around 1:19pm on Saturday officers on patrol responded to a report of alarm at the branch located at Southern Main Road, Couva.
Upon arrival the officers noticed that the inner glass door of the bank in the area of the blue machines was smashed.
Police say a man was observed inside of the bank.
PC Boodoosingh entered the bank through the door, which was broken and approached the person.
The suspect was said to be holding a spray canister in his right hand spraying letters on the wall of the bank and a knife in his left hand.
The officers arrested the man who is identified as Krishna Ramoutar.
The 24-year-old of Princess Town was taken to the Couva Police Station.
Investigators say damage was also done to filing cabinets and drawers in the office areas of the bank.
PC Duncan is continuing enquiries.