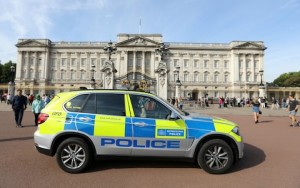 A man arrested at Buckingham Palace on suspicion of possessing a taser has been released by police.
The 38-year-old, a visitor to London from the Netherlands, was detained at the visitors' entrance to the palace last Sunday.
Scotland Yard says his possession of the device, which was low-powered and part of a keyring, was a genuine error, and that he posed no threat.
The man was released without further action.
Parts of Buckingham Palace, which is the Monarch's official residence, are open to the public for 10 weeks each summer.