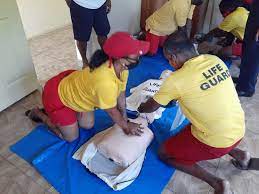 The Lifeguards Association says, its members are not to blame for the drowning of five-year-old Damarie Jeffery.
On Sunday afternoon, during a family outing at fun splash water park in Debe, Damarie's body was found floating in the adult pool.
There have been calls for a greater presence of lifeguards at such facilities.
However speaking with News Centre Five yesterday, president of the association Carl Hernandez said, his members are not at fault.
Mr. Hernandez said, the establishment is privately owned.
Meanwhile hours after he is reported missing at sea, 73-year-old Fareed Kassim's body is found.
Mr. Kassim of Red Road New Grant reportedly drowned, while bathing at Indian Bay Stonebright Beach in Mayaro on Monday.
His body was found on Tuesday evening.