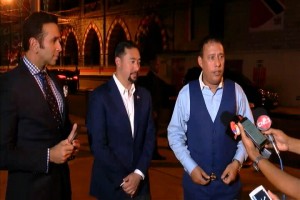 The Police Commissioner says kidnap victim Natalie Pollonais has been rescued. 
Newscentre 5 understands one person is in police custody.
Commissioner Gary Griffith says Mrs. Pollonais was rescued last night at around 7 o'clock.
Speaking with reporters outside the Central Police Station in Port of Spain last evening, Mr. Griffith said a ransom was demanded but none was paid.
Commissioner Griffith said Mrs. Pollonais, a mother of three was in good health and unharmed.
47-year-old Mrs. Pollanais, went missing around 11.30 am on Thursday after leaving the Central Athletics Club at the C3 complex in San Fernando.
Police on Thursday night recovered her BMW vehicle at Union Hall in San Fernando.
National Security Minister, Stuart Young who spoke alongside the Commissioner thanked law enforcement members for their efforts in rescuing Mrs. Pollonais.
Attorney General, Faris al Rawi was also present.