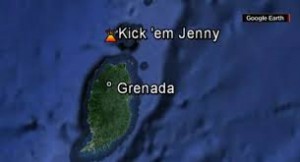 Kick Em Jenny alert level has been lifted to orange due to what is being called increase activity.
The National Disaster Management Agency of Grenada yesterday advised that due to increased activities of the volcano the alert has been moved from yellow to orange.
The agency said with this increase in the alert level, ships and other marine operators are being asked to observe the exclusion zone of three point one miles.
The agency said in collaboration with the University of the West Indies, Seismic Research Center would continue to monitor the activities.
The level orange means there is a highly elevated level of seismic activity.
It also means eruption may begin with less than 24 hours notice.