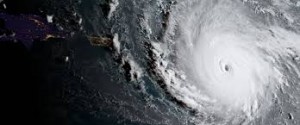 Hurricane Irma is said to be about 55km east-south-east of St. Martin.
An update from the Trinidad and Tobago Meterological Service issued at 5:00 a.m. today says Hurricane Irma was located near latitude 17.9 degrees north and longitude 62.6 dergrees west.
It says Irma is moving toward the west-northwest at 24km/h and that this motion is expected to continue for the next 24-48 hours.
The Met office says on the forecast track, the center of Irma is moving over the northern Leeward Islands presently.
Data from a NOAA hurricane hunter aircraft indicate that the maximum sustained winds have increased to near 295 km/hwith higher gusts.
Irma is a category 5 hurricane on the Saffir-Simpson hurricane wind scale.
The Met office says some fluctuations in intensity are likely during the next day or two but Irma is expected to remain a powerful Category 4 or 5 hurricane.