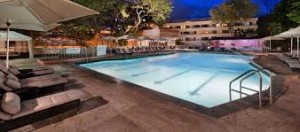 Government says it has invested 7.6 million dollars to rebuild the pool and pool deck at the Trinidad Hilton and Conference Centre.
It says this in order to maintain their physical assets as landlords while at the same time providing a safe and secure environment for users.
Speaking with reporters yesterday, Trade and Industry Minister Paula Gopee-Scoon explained, government has a responsibility to ensure the property was maintained and is up to a particular standard.
She added it is geared towards attracting persons wanting to experience a superior level of service and quality.
In a release yesterday, officials at the Ministry of Trade and Industry claimed the project was part of government's national development strategy – Vision 2030.