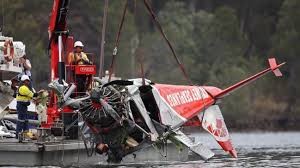 A seaplane was not following an authorised route when it plunged into a river north of Sydney, killing 6 people.
This according to the flight operator.
Five members of a British family and a Canadian pilot died in the incident on December 31st.
There were no survivors.
A preliminary report, released today did not draw any conclusions about why the plane had crashed.
But Sydney seaplanes described events moments before the crash as totally inexplicable.
The Australian Transport Safety Bureau report said the DHC-2 Beaver had made a steep right turn before diving nose-first into the Hawkesbury River at Jerusalem Bay, about 50km from the city.
Among the victims was Richard Cousins, the Chief Executive of a catering company.
58-year-old Mr. Cousins died alongside his 48-year-old fiancée, magazine editor Emma Bowden, her 11-year-old daughter Heather and his sons, 23-year-old Edward, 25-year-old William and pilot Gareth Morgan.