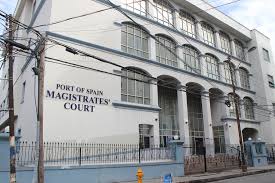 A fracas at the Port of Spain Magistrate's court after some prisoners charged with murder were told their matters could not be heard.
It is reported, prisoners and police officers were injured during the incident yesterday.
Newscenter 5 understands shortly after midday acting Chief Magistrate Maria Busby Earle-Caddle told attorneys of persons accused of murder she could not preside over their matters.
It is said prisoners in the cellblock area of the court on St. Vincent Street, expressed anger.
The magistrate is reported as saying she had to adjourn their matters until there are further instructions as to how they should be handled.
Those matters were before former chief magistrate, now judge, Marcia Ayers Ceasar who sat in the 8th Court before she was promoted.
Following the announcement by Magistrate Earle Caddle, some prisoners started shouting obscenities as they were being led out of the court and others joined in.
It is said the situation got worse and spread to the cellblock area.
The reports say police officers sought to get control of the incident and there was a physical confrontation.
since the elevation of the former Chief Magistrate there have been concerns about the status of several matters, which were before her.
Last week attorney Gerald Ramdeen told of expressed concerns saying some of the matters will have to be redone because of this development.
He said already murder cases were being affected
He said it was unfair to the accused.
Mr. Ramdeen was speaking on the Morning Show on i95.5fm.