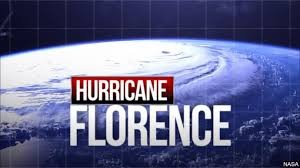 Hurricane Florence has been downgraded to a Category 2 storm as it approaches the US but officials still warn of a "disaster at the doorstep".
Florence's winds may have dropped to 110mph but its slow-moving nature could mean it lingers for days, bringing catastrophic flooding.
Some 10 million people are now under some form of storm watch.
Florence may now be heading further south, and Georgia is the latest state to declare an emergency.
It joins North and South Carolina, Virginia, Maryland and Washington DC.