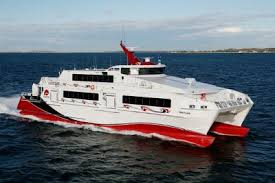 More than 60 passengers and crew members on board a water taxi working the sea bridge had to be evacuated after a fire broke out on board.
Confirmation of the incident has come from the National Infrastructure Development Company Limited and the Minister of Works and Transport.
The taxi was making its way from Scarborough to Port of Spain when there were problems just off the north coast.
NIDCO says the fire started on the ceiling of the engine room on the vessel's starboard side.
Earlier this morning Minister Rohan Sinanan said the vessel's emergency system went into operation.
He described the situation as unfortunate, but said sometimes this happens with vessels.
The minister also said the Caribbean airlines arrangement remains in place, whereby passengers to and from Tobago ferry will be facilitated.
In a release last night, NIDCO said neither fire, smoke nor water extended into the passenger accommodation area and all passengers were safely rescued.