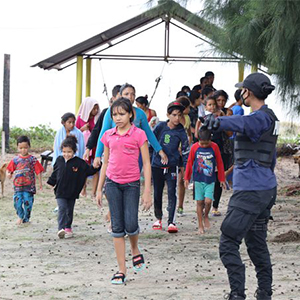 The court has ordered a Venezuelan mother and her 2 children removed from a cell at the Erin Police Station.
The family is now at a quarantine facility at the heliport in Chaguaramas.
Nelisbeth Contreras and her 2 children were taken to the facility yesterday morning, as ordered by Justice Avason Quinlan-Williams.
The children are aged 5 and 9-years-old.
The mother and children were among a group of 27 Venezuelans held at the station since Tuesday afternoon.
The other migrants including 14 children were to be removed as well.
The migrants are to remain in the quarantine facility until their challenge of their deportation is heard and determined by the High Court.
Justice Quinlan-Williams said on Wednesday evening the situation could not continue the way it has been, with children being placed in jail like facilities or police stations.
The group was deported and escorted out of the country by the Coast Guard last Sunday.
However the migrants returned to Trinidad and Tobago.
The deportations have triggered international condemnation, and a defense from the government here.