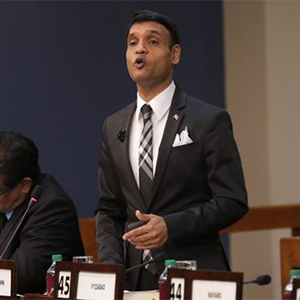 A sitting Member of Parliament on the Opposition bench, is telling members of his United National Congress to be careful who they vote for come December 6th.
The party's internal elections will see 2 contenders for the position of Political Leader, Vasant Bharath and incumbent Kamla Persad Bissessar.
At the UNC's virtual meeting last evening, Princess Town MP Barry Padarath accused Mr. Bharath of contributing to the General Election defeat in 2015.
Mr. Padarath, claimed Mr. Bharath was a problematic candidate.
Mr. Padarath said Mr. Bharath is not telling the truth when he denied campaigning in the Morouga/Tableland constituency against the UNC in the August 2020 General Election.
The MP called on UNC members to be careful of wolves in sheep's clothing trying to remove Mrs. Persad Bissessar.
She last night refused to campaign.
However she had some words for her detractors.
Mrs. Persad Bissessar said she intends to fight for the membership and the people of Trinidad and Tobago.