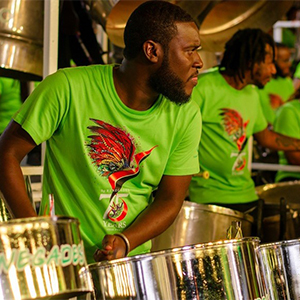 BP Renegades leads the Panorama Semi Finals in the Large Bands Conventional Category.
Playing 'Feeling to Party' last evening at the Queens Park Savannah, Renegades scored 277 points.
In 2nd place was Republic Bank Exodus, which played 'Tourist Leggo'.
HARDCO Phase 2 Pan Groove came in 3rd with 270 points.
The band played 'We Come Out To Party'.
In 4th place was Massy Trinidad All Stars playing 'Stage On Fire' and scoring 269 points.
Shell Invaders came 5th with 267 points.
The bands that followed were Heritage Petroleum Skiffle, NLCB Fonclaire, T&TEC Angel Harps, Desperadoes, NLCB Buccooneers, and Nutrien Silver Stars.
The remaining bands were First Citizens Supernovas, Proman Starlift and RBC Redemption Sound Setters.
In the medium bands category Katszanjammers led with 282 points playing 'Tell Me Why'.
In 2nd place NGC Joylanders.
They played 'De Fete Ain't Over Yet' amassing 279 points.
And in 3rd place is Sforzatas playing 'Johnny' and scoring 272 points.