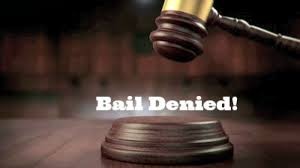 Bail is denied for two maintenance workers charged with illegal possession of arms and ammunition.
Ancil Floyd and Shawn Phillip were arrested during a police exercise in Pleasantville on August 16th and 17th.
Police say Mr. Floyd was detained at Orchid Gardens, Pleasantville on August 17th with a gun, a magazine, 5 rounds of 9mm ammunition and 315 grams of cocaine.
In her bid for bail for the father of one, defence attorney Alexia Romero said 25-year-old Mr. Floyd, was employed as a maintenance worker.
She admitted that her client had a previous matter for possession of ammunition.
However Magistrate Alicia Chankar was unmoved and remanded Mr. Floyd.
Attorney Romero also petitioned for bail for Shawn Phillip, who was charged with possession of five rounds of ammunition and a revolver.
It is alleged that 35-year-old Mr. Phillip, together with others, robbed two people in Pleasantville last Wednesday of $3,700 cash, over $25,000 in jewelry and cellular phones.
Mr. Phillip is also charged with breaking and entering a house in Pleasantville on Wednesday and stealing a 40-inch television valued $6,000.
Police prosecutor Cleyon Seedan said one of the phones and the television were recovered.
Ms. Romero said the maintenance worker and father of two had convictions but no pending matters before the court.
Prosecutor Seedan objected to bail saying Mr. Philip had more than three convictions over the past 15 years.
He was denied bail and advised of his right to apply to a judge.
The men will return to court on September 18th.