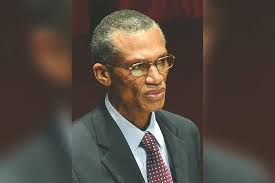 The appointment of Dennis Moses to the Ministry of National Security was not discussed in cabinet, hours after it was announced by the Office of the Prime Minister. Communications Minister Maxi Cuffie yesterday told members of the media, it was not an issue for the cabinet because the Prime Minister has the sole responsibility to make such appointments.
When questioned further at the Post Cabinet News Conference, Minister Cuffie suggested that the international nature of some crimes may have been the reason for sharing the expertise of the Foreign and Caricom Affairs Minister with national security. Minister Moses is reported in the Express as saying he did not want to give any information on what his new portfolio means.
The Office of the Prime Minister earlier this week said Minister Moses will assist National Security Minister Edmund Dillon with specific duties as assigned from time to time.