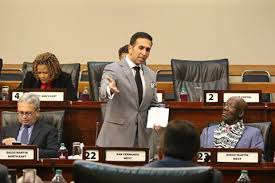 The Attorney General is proposing a number of legislative changes he believes would free up the country's justice system.
Mr. Faris Al Rawi says the proposed measures will bring dynamic changes to the way crime is processed in the courts.
Addressing yesterday's Post Cabinet News briefing Mr. Al Rawi told of amendments that would allow more persons to access bail.
He said what is proposed would aid in this regard.
And he said if his government has its way preliminary inquiries would be a thing of the past.
He said while some gains were made under the last administration there is farther to go.
And the AG is proposing plea bargaining as a means of quickly dispensing with matters.
He said the process can begin even before charges are laid.
Also addressing yesterday's Post Cabinet News briefing were Health Minister Terrence Deyalsingh and Minister in the office of the Attorney General and Legal Affairs Stuart Young.