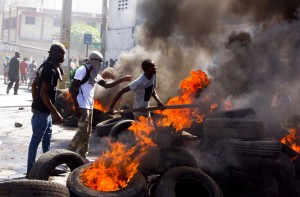 Six people have been killed and at least five others wounded during anti-corruption protests across Haiti.
This as anger grows over the disappearance of billions of dollars linked to a Public Finance Program.
Police say thousands of Haitians marched in the capital, Port-au-Prince, and other parts of the country yesterday calling for a probe into the spending of $3.8bn Haiti received from Venezuela as part of an oil assistance programme.
President Jovenel Moise called for dialogue with opposition groups that are seeking his resignation for failing to investigate corruption.
Clashes with police erupted yesterday after protesters blocked streets and set fire to tires.