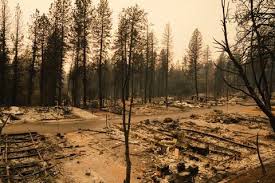 Over the last few days the number of people unaccounted for in the deadly camp fire in Northern California skyrocketed to more than 1,200, before falling again to just below 1,000.
The sudden jump led to some confusion among locals and officials alike.
The confirmed death toll of 77 is already a state record.
The answer is not so simple, as authorities in the worst-hit area, Butte County, have openly admitted.
On Friday, when the list first soared to over 1,000, Sheriff Kory Honea described the database as "dynamic".
Officials say the large fluctuation is occurring as investigators try to compile all the missing person reports from calls, reports and emails since the fire began on the 8th of November.