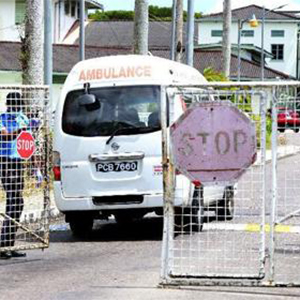 Trinidad and Tobago's last known COVID-19 positive patient has been discharged from hospital.
The patient, said to be an elderly woman from south Trinidad was released from the Caura Hospital last night.
She was the last of the 108 people to recover from the deadly virus.
Today, Chief Medical Officer, Dr. Roshan Parasram says this is good news for the country.
He says now that there are no active cases of COVID-19 in the country members of the public cannot be complacent.
Dr. Parasram urged persons to continue taking preventative measures against the virus.
The woman spent almost 9 weeks being treated at hospital.
She along with her husband both tested positive for COVID-19 and were treated at the Couva District Hospital.
The husband was released 2 weeks ago.
Speaking with Newscenter 5 this morning Dr. Parasram says community testing will continue across Trinidad and Tobago.
He said the aim is to wipe out the virus, at least in this country.
In a statement last night the Ministry of Health said thus far 2805 samples have been submitted to the Caribbean Public Health Agency and the UWI site for testing for COVID-19 for testing.
It said the number of samples which have tested positive remained at 116 and 8 people have died from COVID-19.