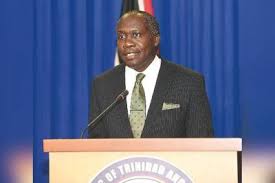 There is assurance from the Dr. Keith Rowley administration that it is taking steps to transform Laventille. Communications Minister, Maxie Cuffie says one of the first measures is addressing crime in the community.
He says government has placed special attention on beefing up security in the area and this will result in a better and safer Laventille. Recently, Prime Minister Dr. Keith Rowley announced increased security in hot spot areas, after two teenaged boys in school uniform were shot and killed in Laventille.
Dr. Rowley said the 24/7 operation was being done to clamp down on crime. Yesterday, Minister Cuffie said from reports, the initiative seemed to be working. Minister Cuffie was speaking at the post cabinet media briefing in Port of Spain yesterday.