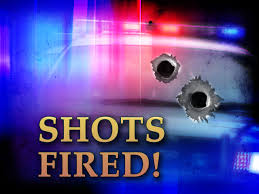 A soldier fires shots at two bandits who robbed him while in traffick on Piccadilly Street in Port of Spain.
He believes he may have hit one of them.
Sergeant Roger Bernard was robbed of jewelry valued at $30,000 on Wednesday.
44-year-old Sergeant Bernard says he fired several shots at the robbers with his licensed firearm, and believes one of them was hit.
As a result hospitals have been put on notice to report to the police anyone seeking treatment for gunshot wounds.
According to police reports at about 2.45 p.m. on Wednesday, Sgt. Bernard of D'abadie was driving his car along Piccadilly Street in
Port of Spain when he stopped in traffic near Duke Street.
Two men he saw standing on the pavement approached the soldier and grabbed the gold chain and gold wristbands he was wearing.
A struggle ensued but the robbers escaped but not before the soldier fired several shots behind them. A report was made to the Besson Street Police Station.