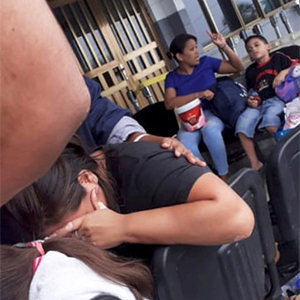 A four-month-old baby is among the 16 Venezuelan nationals deported by the authorities here in Trinidad and Tobago.
The deportations came in spite of an emergency high court order last Sunday which said the group would be allowed to stay here pending the end of legal proceedings against the State.
Justice Avason Quinlan-Williams, who wanted to see the group during a follow up hearing yesterday afternoon, issued the order.
But by that time the 16 adults and children were put on private vessels in local waters, on their way home.
Senior Counsel for the State, Reginald Armour told the virtual hearing that the group was already back in Venezuela.
He said his clients did not breach any order of the court because the deportations had already taken place when the judge made it.
Justice Quinlan-Williams said she was disturbed by the lack of answers from agents of the State as to the location of the group.
She said she is disheartened to know that this is the situation the State is adopting when there is a line of communication between the military here and Venezuelan authorities.
The judge said because of the developments the Habeas Corpus Writs have fallen by the wayside because the group is no longer in this country.
And one of the attorneys for the Venezuelans, Nafeesa Mohammed told Newscenter 5 lamented the treatment being delivered to illegal immigrants.
She believes this situation provides an excellent learning opportunity for the powers that be.