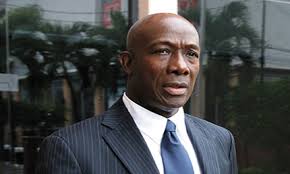 Prime Minister Dr. Keith Rowley responds to claims by the opposition that the lease operator in the fake oil scandal at Petrotrin was a PNM financier.
On Sunday, Opposition Leader Kamla Persad Bisses­sar read information from an internal audit report from state-owned Petrotrin at her party's national congress in Couva.
The August 17th report alleged A&V Oil and Gas had inflated its oil production figures and defrauded Petrotrin of almost $100 million.
Mrs. Persad-Bissessar also alleged the lease operator was a PNM financier and had close ties with senior cabinet officials.
But Dr. Rowley says he was not even a member of cabinet when A&V Oil and Gas Ltd got its lease operator's license in 2009.
He is quoted in the Express newspaper as saying he was fired by then-Prime Minister Patrick Manning in April 2008, so he was not there when the company got the lease from Petrotrin.
The Prime Minster also criticised Opposi­tion Leader Kamla Persad-Bissessar as being desperate to find other slanders against him.
Yesterday Energy Minister Franklin Khan confirmed a probe is being conducted into the "fake oil" issue.
Yesterday President General of the Oilfield Workers Trade Union Ancel Roget said he had warned the country about this development before, but no one listened.
He called for an independent probe.
Mr. Roget also called for the fraud squad to intervene.
He said the time had come for changes to be made in the operations of Petrotrin.
Mr. Roget said there must be competent people at all levels of the state owned company.