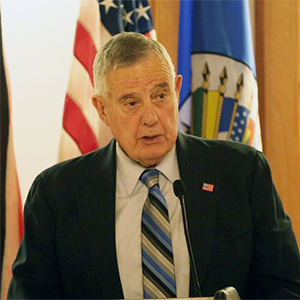 There are now Opposition calls for the resignation or removal of Stuart Young as Minister of National Security.
The calls spiked yesterday after a release from the U.S. ambassador to this country, Joseph Mondello.
In the release Mr. Mondello contradicts Minister Young's statement that the Rio Treaty was never raised during his talks with Mr. Mondello earlier this month.
The Ambassador said since the government has spoken publically about the conversation he had with Minister Young, he has decided to comment.
He said in his May 6th conversation with Minister Young, he expressed concern about what he called the consistency of Delcy Rodgriguez's visit to Port of Spain, with Trinidad and Tobago's obligations as a party to the Rio Treaty.
With that release, Opposition MP Dr. Roodal Moonilal said yesterday the Minister must go.
In the Senate on May 13th the Minister was asked about his conversation with the Ambassador.
In response to the Ambassador last night Minister Young said his comments in the Senate were misconstrued.
The minister said he has noted the statement of Ambassador Mondello.
MP Roodal Moonilal is now saying the Minister has soured relations with the United States.
Last night the Minister again denied any wrongdoing in the issue.