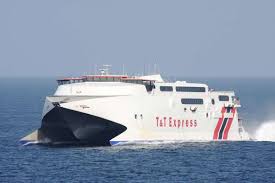 Tobagonians are given assurances but they will have to wait a little longer to know how goods will be transported between the islands after the Easter holiday weekend.
There have been concerns about the impact of the pending withdrawal of the Galicia on business and services in Tobago.
3 hours of talks with stakeholders yesterday failed to yield a definitive fix to the inter island cargo crisis facing Tobagonians.
Speaking with the media after the meeting Acting General Manager for the Port Authority Charmaine Lewis said several short-term solutions were looked at.
They include renegotiating a new arrangement with the agents of the super fast Galicia.
Ms. Lewis said the T&T Express will return to service on April 10th but will only carry 500 passengers.
Works and Transport Minister Rohan Sinanan yesterday said a lot of misinformation has been in the public domain.
He also assured that a permanent solution would be found soon.