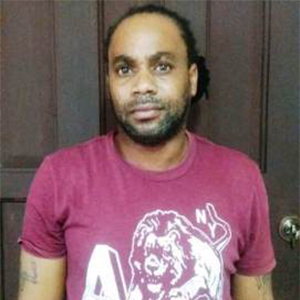 The death of Sherwin Apple, also known as 'Yellow" is not being treated as a murder.
Initially the death was being deemed a suicide but now things have changed.
An autopsy conducted on Wednesday this week said Mr. Apple was strangled.
His body was found  face down in mud on the Kitty Foreshore on Tuesday this week.
Mr. Apple, another man and a woman were seen in a sex video which was being investigated by the police, prior to his body being found.
The video clip had gone viral and police say they were preparing to question Mr. Apple about it.
Mr. Apple's sister was never convinced her brother committed suicide.
Police have confirmed that they spoke with the girl in the video in the presence of her mother.
She reportedly denied being a victim, as was feared by some who saw the video clip.
Mr. Apple's sister says the sex video  was old.
The third person in the video is now in police custody.
He has denied having anything to do with the death of Mr. Apple.