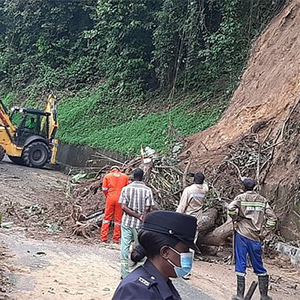 An early morning landslide affects several communities and the flow of traffic along the North Side Road in Tobago.
The landslide occurred in the wee hours of this morning at Mount Dillon Hill along the North Side Road.
Director of the Tobago Emergency Management Agency Allan Stewart tells commuters to use alternate routes where possible.
Members of TEMA's Cert teams have also reported other landslides, which pose a threat to utility lines.
According to Mr. Stewart it will take several hours for the landslides to be cleared.
Affected areas include Castara, Parlatuvier, Bloody Bay and L'anse Fourmi.
This incident came after some early morning rain, which would have saturated the soil.
As of 2pm yesterday the MET office at the ANR Robinson International Airport in Crown Point recorded 268.5 millimetres of rain for the month of November.
There were also heavy showers in parts of northern and eastern Tobago.
Teams from the Division of Infrastructure, Quarries and the Environment have been mobilized to attend to the situation.