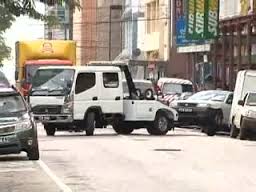 The Downtown Owners and Merchants Association wants the new Mayor of Port of Spain to put an end to wrecking, saying it is intefering with business.
On Wednesday the police service said wrecking would continue in Port of Spain.
Yesterday DOMA president Gregory Aboud maintained it was unfair to shoppers.
Mr. Aboud is hoping the new Mayor would seek to address this issue.
Mr. Aboud said the wrecking service was a hustle that must stop, adding his members were also losing business as a result.
Mr. Aboud said the park and ride system would not be in effect this year, but persons still have the option of parking at the Salvatori Building site.
Meanwhile Mr. Aboud said there had been a decline in Christmas sales this year due to the current economic situation.
However, he said his members were still grateful.
Mr. Aboud was speaking with Newscenter 5 yesterday.