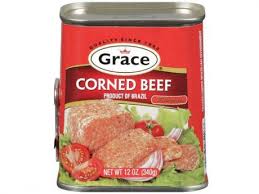 Corned beef is returned to the shelves of groceries across the country.
This after the Ministry of Agriculture yesterday lifted the restriction on corned beef and other meat imports from Brazil.
Agriculture Minster Clarence Rambharat put the temporary restriction in place on March 21st after investigations found that corned beef and other meat producers were using rotted meat at several factories.
In a release yesterday, the Ministry stated that correspondence from Brazil's Minister of Agriculture Blairo Maggi to Mr. Rambharat confirmed there had been no exports of meat products to Trinidad and Tobago from any of the processing plants under investigation by Brazilian authorities.
The temporary restriction was on both the import and retail sale of meat products from Brazil including corned beef, chicken patties and chicken nuggets.