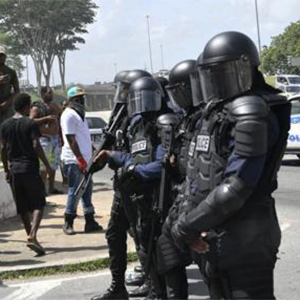 Attempts to stage more demonstrations in and around Port of Spain have been shut down by police.
For most of yesterday officers, heavily armored tried dousing the flames of dissent.
They say groups were forming in Beetham Gardens, along the highway, Sea Lots and in the heart of the capital.
In the Sea Lots area, police demanded those gathering there to disperse.
Police say yesterday afternoon 2 groups of people were seen along the Beetham Highway but their reported plans were shut down.
There were others heading to Frederick Street when they were stopped by the police from the Guard and Emergency Branch.
With orders from the police the groups dispersed.
The protesters have been saying the trigger for the demonstrations were the police killings of Joel Jacobs, Noel Diamond and Israel Clinton in 2nd Caledonia Morvant, last Saturday.
The protesters have been calling for the officers involved to be suspended while investigations continue.
However Commissioner of Police Gary Griffith yesterday said that was not going to happen, at least not now.
The Commissioner said it would not be practical to take disciplinary action now.
For the next 24 hours the police remain on red alert.
And Community Activist, Jamal Shabazz says contrary to what is being said, the protesters do not want to disrupt the country.
He says the protesters are all PNM supporters.
He admits the manner in which the protesters are conducting themselves may not be right they just want justice.
He was speaking on TV6's Morning Edition program yesterday.