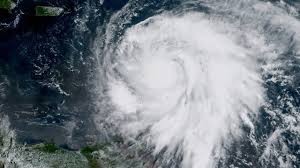 6 people are dead following hurricane Maria.
Communication equipment is said to be inoperable but news just coming to hand says this is the fatality count so far.
Reports are also saying Barbados has already dispatched a second Coast Guard ship to hurricane ravaged Dominica with relief supplies and the regional security system including Cedema has already flown over the island to get a first hand view of the damage.
Yesterday executive director of Cedema Ronald Jackson said he was saddened by the loss.
A six-man team from the Barbados Fire Service has also been sent to Dominica to lend a helping hand.
Chief Fire Officer of the department Errol Maynard assured this would not hamper the operations of the department.
The Barbados Defence Force has asked persons wishing to make donations to do so.