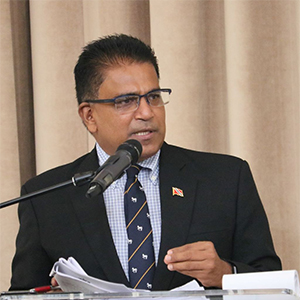 The Oropouche east candidate for the United National Congress, Dr. Roodal Moonilal says the government has secretly signed the Petrotrin deal.
But he is telling Prime Minister Dr. Keith Rowley to keep his paws off the Petrotrin refinery.
At a meeting in Pointe a Pierre last evening Dr. Moonilal said he has been told the deal between Patriotic Energies and Technologies Company Limited has been sealed surreptitiously.
Dr. Moonilal said the Prime Minister has to understand Petrotrin does not belong to him but to the people of Trinidad and Tobago.
Last week the head of the Oilfield Workers Trade Union, which is aligned to Patriotic Energies and Technologies, Ancel Roget said the deal is not done.
He said there are still things to be done.
Prime Minister Rowley has also defended his government's decision to restructure and cut the losses at Petrotrin.
The United National Congress has promised to save the refinery from private hands.
It has been vowing to reopen Petrotrin, calling its sale a tragedy and sad day for the country.