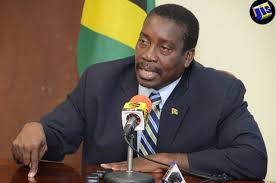 Jamaica's National Security Minister Robert Montague is assuring the nation that the security forces will not allow criminal elements take control of the society.
He says the violent nature of crime and the high percentage of murders committed by the use of guns, require that the police are well equipped with lethal weapons, less deadly force as well as community support.
Mr. Montague was yesterday addressing a ceremony for the handing over of 3,500 less lethal weapon kits, sponsored by the United States
The Jamaica Constabulary Force will receive 7,000 pieces of equipment.
They include batons, handcuffs, utility belts and pepper sprays.
Mr. Montague told the gathering that tools received today, would better equip the police to carry out their role as peace officers.
Meanwhile, US Ambassador to Jamaica, Luis Moreno, while commending the leadership of the JCF on strides made to resolve conflicts with minimum use of force, said the partnership provides the members of the JCF, the opportunity to strengthen the trust with the people they serve.