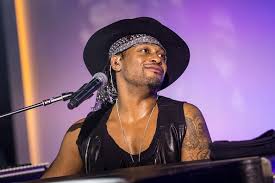 R&B singer D'angelo bows out of the 2017 Tobago Jazz Experience.
Organiser of the event John Arnold says this was due to the death of the U.S star's grandfather
He says D'angelo's management contacted the Tobago House of Assembly on the weekend, telling of the situation.
Booking agent attached to the THA, Matt Ross, said all efforts are being made to book another international act.
However, Mr. Ross could not guarantee another act would be found adding in cases where patrons may request refunds; it will be treated with on a case-by-case basis.
D'angelo was scheduled to perform on world music night this Friday, as the ninth edition of the festival is set to kick into high gear this weekend.
Mr. Ross recognised that the withdrawal of D'angelo was an "unexpected and unavoidable" situation, but he insists there were still multiple talented artistes who would be performing at the show, including Shabba Ranks, Kes the Band, and KI and the Band.
He says a quality concert is still expected to occur.