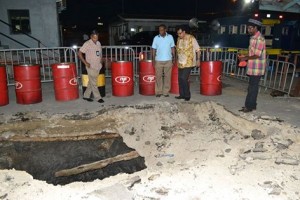 The San Fernando City Corporation says, a 60ft water well is to blame for the sinkhole, which appeared in the city over the weekend.
Speaking with Newscenter five yesterday, San Fernando mayor Kazim Hosein said, the sinkhole was one of three that appeared in his city. He assured burgesses help was underway
Mayor Hosein said, the sink hole will not be taken lightly as it had the ability to do some major damage to the historical buildings in the southern city
The first sink hole appeared on the Carib Street Complex, on Saturday.