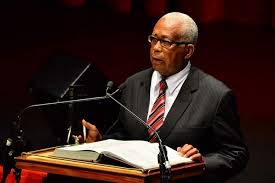 The Education Minister has decided to remove 24 students from the Chaguanas North Secondary school. Minister Anthony Garcia made the announcement yesterday, saying some in the group of students have criminal records and matters before the courts.
The minister's decision was announced during a visit to the school, and comes days after there were reports of a plot by gangsters to kill a teacher and some students. The Minister of Education said he met yesterday with members of staff and the student body.
Minister Garcia and a team of officials from the Ministry of Education, including Minister Dr. Lovell Francis, as well as National Security Minister Edmund Dillon and representatives from the Ministry of Social Development, met with the school principal to discuss indiscipline at the school and determine a way forward.