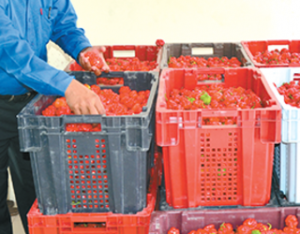 Guyana is looking at T&T's model of hot pepper production and the sharing of production of marketing by Caroni Green Limited (CGL) and personnel from the Agriculture Committee of the Private Sector Commission of Guyana. This follows a visit by chairman of the PSC's Agriculture Committee Beni Sankar.
Mr. Sanka visited CGL's Mon Ja-Loux Farm in Cunupia last week. CGL CEO Sharma Lalla said he was impressed and expressed a strong desire to deepen the relationship between CGL and agriculture stakeholders in Guyana.
He noted that the farm model developed and implemented by CGL was worthy of replication and the foreign exchange earning potential of the venture is a desirable outcome for his country. Mr. Lalla said CGL exported just over US $100,000 worth of hot peppers to the United States market in the last quarter of 2015.