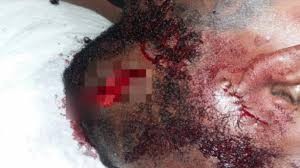 A scuffle in Georgetown Guyana leaves Trinidad and Tobago entertainer Benjai with 22 stitches on his face.
The incident is said to have occurred on Sunday morning outside Palm Court Club.
The Soca star had earlier performed at the nightspot.
He was treated at hospital and is said to have left Guyana hours later.
According to reports from newssourcegy.com, Benjai had wrapped up his headlining performance at a Pulse Entertainment soca-themed party and was leaving the nightspot when the incident occurred.
According to the website, Benjai was outside the club chatting with a group of fans when the driver of a car was about to reverse into them.
It is reported that one of the persons in the group with Benjai knocked on the trunk of the car to alert the driver that he was coming too close to them.
The driver of the car reportedly got out and confronted Benjai and his group.
Another occupant of the car is reported to have pulled out a bottle and struck the singer in the face.
A police report was made.