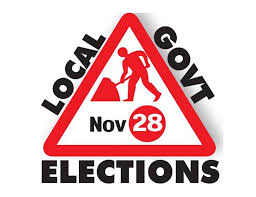 Gains for both the ruling Peoples National Movement and the opposition United National Congress in the Local Government Elections.
But the voter turnout yesterday is believed to have been very low.
The PNM, with its 83 successful candidates have claimed 7 of the Regional Corporations, while the United National Congress and its 54 candidates have 6 corporations.
There is a tie in the Sangre Grande Corporation.
Last night, at Balisier House chairman of the PNM Franklyn Khan said the numbers are good for the party and the country.
Chairman Khan noted that despite the current economic circumtances facing the country, the PNM was still able to do well yesterday.
And Prime Minister and Political Leader of the PNM Dr. Keith Rowley echoed similar sentiments.
Dr. Rowley noted that the PNM actually made in-roads in some areas.
But the UNC has won the popular vote.
Preliminary numbers say 122,558 votes to the PNM's 117,051 votes.
Opposition Leader and head of the UNC, Kamla Persad Bissessar declares major strides following the polls.
Speaking at her party's headquarters in Couva last evening, Mrs. Persad Bissessar vowed to continue to hold the Rowley government to account.
Mrs. Persad Bissessar told her supporters the victory was a sign that her party is on the rise again.