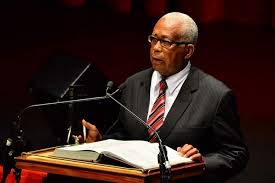 The Minister of Education is reprimanding denominational school boards for not ensuring their schools are ready for re-opening.
Minister Garcia says it is not good that so many of the schools depend heavily on the state to have their buildings ready in time for the start of the new term.
Schools are due to reopen next week and the Minister has consistently promised all will be ready on time.
Speaking on the morning edition programme on TV6 yesterday Minister Garcia said there needed to be greater dialouge with some of the denominational boards.
He said he will soon meet with them to discuss the challenges.
The Minister also addressed the issue of the placements of some students following the S.E.A.
He said it was not all up to his Ministry to place students.
The Minister also said talks with the Trinidad and Tobago Unified Teachers Association on the restructuring on the education system were on going.