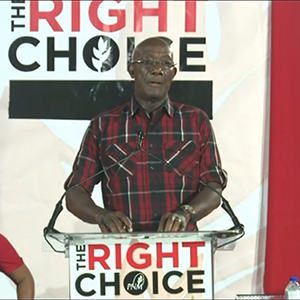 Police have again moved in on the headquarters of the controversial Drugs Sou Sou in La Horquetta.
Yesterday at around 11am, the Katheleen Warner Drive, La Horquetta hub of the controversial sou sou was searched.
Officers blocked off the area after presenting a search warrant.
The officers who carried out the operation include those from the Financial Investigations Bureau, the Special Operations Response Team and the Northern Division and Professional Standards Bureau.
It is reported the search went on for about 4 hours and yet again larges sums of cash were found on the premises.
The officers reportedly took receipt books, hard drives and other documents away.
The last time officers seized millions of dollars at the house.
Yesterday in a release the owner of the initiative soldier Kerron Clarke issued a statement saying he was shocked and alarmed by the latest action.
The statement said the DSS head is surprised that the headquarters would be subjected to another search warrant after the conversation he had with the Commissioner of Police.
According to the release, Mr. Clarke said yesterday's action occurred despite reassurances from the Commissioner that neither he nor the company (DSS) are the focus of a police investigation.
At a political meeting 2 weeks ago, Prime Minister Dr. Keith Rowley said this Drug Sou Sou and the way it was handled by the police are not good for the security of the nation.
Dr. Rowley called the situation a threat to national security.
It is reported 2 of the officers from Barbados are already in the country to begin the probe.