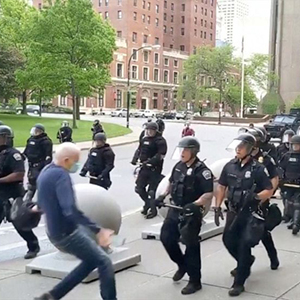 Several videos of police brutality have emerged during protests over the death of African American George Floyd.
In Buffalo, New York State, two officers were suspended after they were seen shoving an elderly white man to the ground.
And in New York City, police were captured on video roughly handling demonstrators as they ran away.
The reports come hours after a memorial for Floyd in Minneapolis, the city where he died at the hands of police.
At the service, Civil Rights Activist, Reverend Al Sharpton sought to rally black Americans to the cause of justice.
He said Mr. Floyd's killing was nothing new.
Mr. Floyd's killing, also captured on video, has caused outrage and sparked a wave of protests against racial discrimination and police treatment of African Americans in cities across the us and the world.
The vast majority of demonstrations over the past 8 days have been peaceful but some have descended into violence and rioting, with curfews imposed in a number of cities.