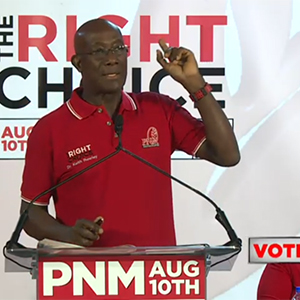 Prime Minister Dr. Keith Rowley is claiming persons linked to the opposition United National Congress are trying to interfere with the rulings of judges on matters before them.
Last night Dr. Rowley told of efforts by persons to get the judges to hold their hands on delivering rulings before the August 10th General Election.
Dr. Rowley called no names but he had a question for the Law Association.
The Prime Minister was at a meeting of his Peoples National Movement in Chaguanas east, where he said the attempts are only for people on the side of the UNC.
He reminded his audience that justice is supposed to be blind therefore it sees no individual or position, just the matters which are to be adjudicated on.