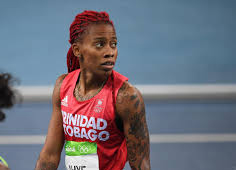 Michelle-Lee Ahyee fails to medal in Rio, Brazil.
Last evening the Trinidad and Tobago track star clocked 22.34 seconds to finish sixth in the woman's 200m final.
Jamaica's Elaine Thompson won the 200m final with 21.78 seconds.
Dutch athlete Dafne Schippers claimed silver and the bronze went to American Tori Bowie.
After the race Michelle-Lee Ayhee said she ran a good 160 meters but at the end she locked up badly.
She said she is still in the learning process and the race last night made her hungry for next year.
Michelle-Lee Ayhee and shot putter Cleo Patra Borel are the only women from Trinidad and Tobago to reach two Olympic finals.